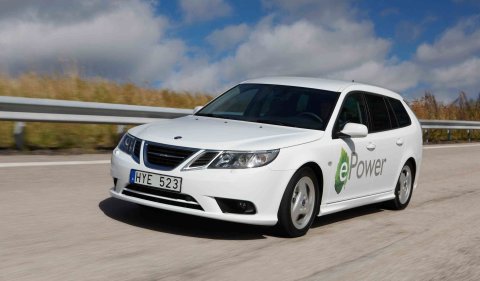 Saab 9-3 SportCombi with all-electric propulsion
Projected driving range 200 km approx.
Battery cells set benchmark for energy density
User trials with 70-strong test fleet starting next year
DETROIT: Saab Automobile is taking its first step towards developing an all-electric vehicle with the Saab 9-3 ePower.
Making its public debut at the Paris Motor Show later this month, the Saab 9-3 ePower is the prototype for a test fleet of 70 vehicles which will participate in extensive field trials in Sweden early next year.
The performance of the cars will be evaluated under a variety of real world driving conditions as part of the development process for a purpose-built, electric Saab vehicle. Targets to be verified include a projected driving range of approximately 200 kilometers through the use of high density energy storage in lithium-ion battery cells.
The Saab ePower is the first electric vehicle from Saab and is a result of a co-operation between Saab Automobile, Boston Power (batteries), Electroengine in Sweden AB (electric power trains), Innovatum (project management) and Power Circle (Sweden's electric power industry trade organization) … Read the full Saab press release